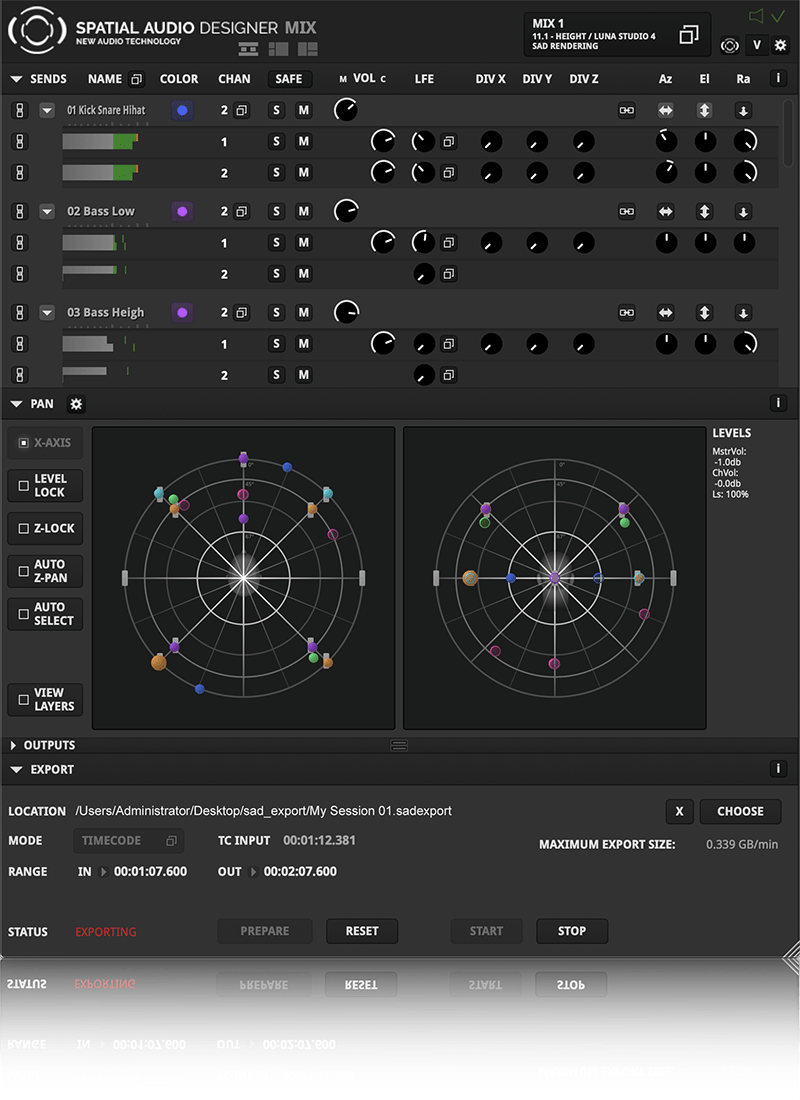 The Spatial Audio Designer (SAD) is the market leading high-performance pro audio tool for creating content and monitoring in surround and 3D. Users are e.g. movies, music, game, VR, broadcast events, and industry.
The SAD enables the mixing and monitoring of any immersive (surround or 3D) format with speakers or regular headphones with any DAW.
Independently of the host DAW bus structures, the SAD enables the monitoring and mixing of all current and future audio formats. Stereo, 5.1, 7.1, Dolby Atmos 7.1.2 Bed, 11.1 and 22.2 are just a mouse click away from each other. If no appropriate loudspeaker system is available, the SAD provides the high quality, flexible and personally adjustable Headphone Surround 3D binaural loudspeaker virtualization for standard headphones.
Furthermore, the SAD can import panning and volume automation data. Hence, an existing multi-channel 5.1 mix session is just minutes away from being a discrete 7.1 mix and maybe a day of evolving to a 3D audio mix for cinema, home, 360/VR or mobile entertainment application.
For exhibition and event applications, the SAD is also available in unique configurations to mix with format independent loudspeaker arrays.
And the SAD is the only tool in the market what offers a complete end-to-end production workflow for MPEG-H. Creating the mix, authoring of the preset, monitoring of the interactivity, exporting the master and encoding of the final file to deliver.
Besides all this, the unique high quality binaural processing of the Spatial Audio Designer opens the door into a whole new dimension of audio production. Format independent mixes with multiple virtual loudspeaker arrays using all three dimensions and different locations at the same time can be built in one go. It is now possible to create music, film, radio-play, game and head-locked VR music and audio mixes with a sound like never heard before.
Features Vers. 3.0

Plug-in for any professional application such as music, film, game, sound design, VR/360 and multimedia.
Mixing and monitoring with real loudspeakers and common headphones.
All common 2D audio formats like stereo, 5.1 and 7.1 are available.
Support for all current and future 3D channel layouts (formats) like IMAX, 2+2+2+2, Dolby Atmos, MPEG-H, Auro-3D, DTS:X and 22.2.
Custom channel layouts are possible by users or on demand for presentations and special venues.
Unlimited amount of input sources usable.
Up to 330 outputs available
Advanced output monitoring and calibration for any format
Flexible OSC I/O interface
Object export (audio and metadata) of complete mixes
Exports to any channel format
Independent of the host bus structure => works in stereo audio and some video workstations too.
Import of DAW (digital audio workstaion) automation data.
Licencing to computer hardware and/or standard USB stick (no special dongle).
High-end binaural processing by New Audio Technology.
Sampling rates: 44.1 kHz, 48 kHz. 88.2 kHz and higher are possible but not guaranteed. Depends on host DAW, OS and system.
Complete MPEG-H authoring, monitoring, export and encode.
Virtual busses (enable mixing different formats at the same time)
Auto routing => modules are connected instandly
Host track name takeover in certain DAW versions.
All Dolby Atmos bed channel array configurations.
Panner GUI in Send module (source track module)
Scalable and adjustable GUI.
Box and sphere mode
Collapsing editing boxes.
Enhanced processing to save CPU consumption.
Retina display support.
I/O level display in the Send modules.
Send level display.
Enhanced mouse over parameter display and editing.
Processing sync indicator.
Internal buffer size management.
The "In-One" Version of the Spatial Audio Designer is a version of the Plug-in that is suited to address monitoring needs. That means that the user is enabled to have the headphone virtualization for monitoring purposes, but not all panning and routing options. If you want to "create" rather than "monitor" you must likely want to have a look at the Virtual Producer or greater licenses. The In-One license is also included in the SAD Producer and Producer Plus license. The In-One do not support MPEG-H creation!
Pricing
Film Stage: € 1.349,00
Producer Plus multi-user license.

Producer plus: € 389,00
Full Plug-in suite with up to 330 outputs.
Producer:  € 289,00 
Plug-in suite with eight discrete channel outputs
Virtual Producer:  € 189,00 
Plug-in suite for binaural processing (Headphone Surround 3D).

In-One:  € 89,00 (Included in Producer versions).
Standalone, limited to 8 inputs and binaural processing (Headphone Surround 3D).
System requirements
Macintosh
Intel Mac PC with 2 GHz Dual2Core Processor or better.
Mac OS X 10.13 – 11.+ (Rosetta)
2GB min., 4GB or more suggested.

64 Bit Host Application
Windows
Intel PC with 2 GHz Dual2Core processor or better
Windows 7/64 – 11
2GB min., 4GB or more suggested.
64 Bit Host Application
Hosts:
AAX, AU, VST 2&3

Tested with current versions of main workstaions like Pro Tools, Nuendo, Cubase, Reaper, Logic, Audition etc.